Tungareshwar Shiva Temple, located in Vasai East, is a well-known Shiva temple. The temple is perched atop one of the highest mountain plateaus in Vasai, 2177 feet above ground level. Tungareshwar, a cluster of five mountains, is home to several extremely sacred temples, including Shiva, Kal Bhairav (incarnation of Shiva), Jagmata temple (incarnation of Parvati, wife of Lord Shiva), the Balyogi Sadananda Maharaj Matth, and others.
| | |
| --- | --- |
| Temple Name | Tungareshwar Shiva Temple |
| Temple is also known as | Tungareshwar Temple, Tungareshwar Mahadev Temple |
| Deity | Lord Shiva |
| Temple Timing | 5:00 AM to 6:00 PM |
| Aarti | |
| Darshan Fee | Free Entry |
| VIP Entry | Not available |
| Live Darshan | Not available |
| Important Festivals | Maha Shivarathri, Shravan |
| Address | Tungareshwar Rd, Thane, Maharashtra 401303 |
| Official Website | Not available |
| Contact Number | +91-8655515461 |
| Official Email ID | Not available |
About Vasai Tungareshwar Shiva Temple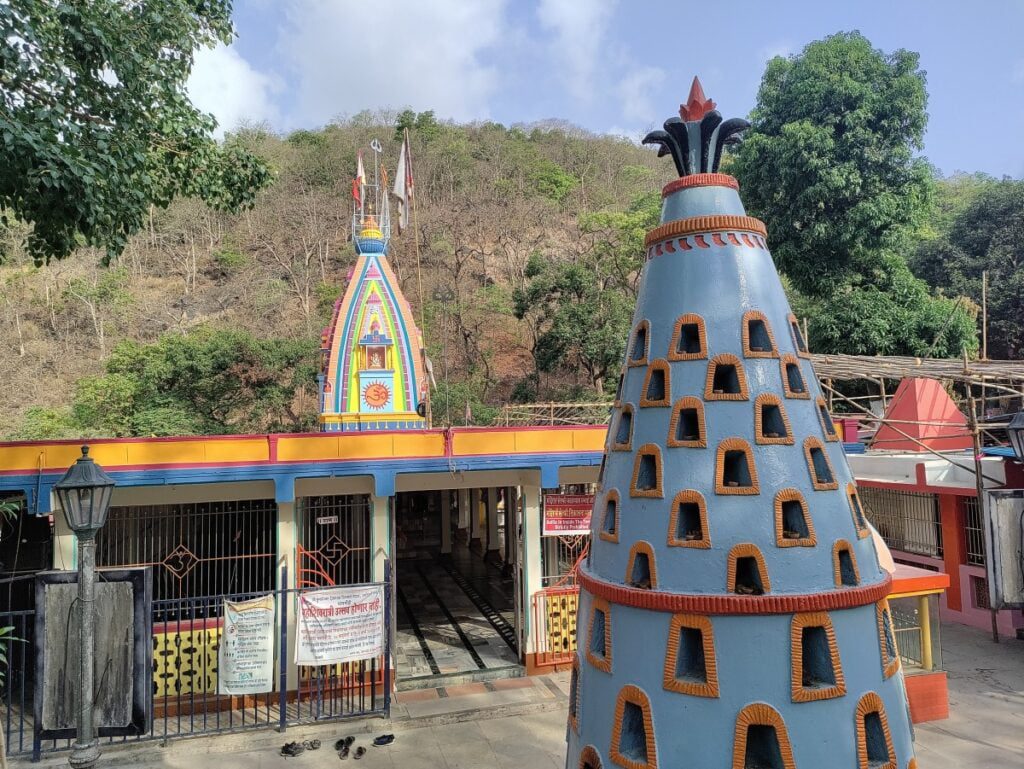 The Tungareshwar Shiva Temple in Vasai is one of the most popular pilgrimage destinations in the region. Located at Vasai in Palghar district, Maharashtra, this ancient temple was built in honour of Lord Shiva, the presiding deity of the shrine. It is believed to be over 100 years old and one of the oldest temples in the area. The temple has beautifully crafted architecture, intricately carved stone pillars, walls and sculptures.
It is surrounded by lush green hills, making it a picturesque sight. The main idol here is a majestic Shivalinga, which devotees from all over the world worship. The temple is also known for its many religious rituals and festivals. People flock to the temple to participate in these festivities and seek blessings from Lord Shiva. A visit to this majestic temple will surely be an uplifting experience.
Temple Legend
Lord Parshurama was honoured by the construction of the temple. Here, Lord Parshurama practised meditation. It is said that Adi Shankaracharya meditated close to Shuparak in a location that is today known as Sopara or Nalasopara. According to mythology, Lord Parshurama slew the demon Tunga in this location.
Temple Architecture
The temple space was small but attractively furnished with brilliant Minimalist glass sculptures. A Diya was lit on one of the room's corners, and a small Devi temple was present. In the centre was the Main Ling – Lord Shiva, encircled by a Hug snake made of bronze. The temple is designed according to Vastu shastra and has holy geometry symbolism. A brass post is suspended above the ling, and water drips from it drop by drop over it.
Darsan Timing
The temple is open to worshippers from 5:00 AM to 6:00 PM.
Temple Rituals Timetable
| | |
| --- | --- |
| Ritual | Time |
| Shiv Aarti | 05:00 AM |
| Shiv Aarti | 09:00 AM |
| Naivedya | 12:00 PM |
| Shiv Aarti | 05:00 PM |
| Shiv Aarti | 06:00 PM |
Darshan Dresscode
Avoid trendy dress codes and wear clothes that are clean and modest.
Famous Festival
The holy festival of Mahashivratri was celebrated with great devotion and enthusiasm at the ancient Tungareshwar Shiva Temple in Vasai. Thousands of devotees from across India flocked to be part of the festivities, which included dutiful observance of the various spiritual rituals associated with the day. The main ritual involved a bath in the holy waters of River Vaitarna, followed by an offering to Lord Shiva.
Throughout the celebrations, devotional songs and offerings were made to Lord Shiva. It was a mesmerising sight as devotees reverently sang hymns dedicated to Lord Shiva and bowed down in prayer for his benevolent grace upon them. Prasadam was distributed amongst all those who attended, and it was said that those who paid their respects on this day would earn blessings from Lord Shiva himself.
Local Culture
Thane's culture is interesting and interesting. It tells us about how the people there live and what they believe. When you look at Thane's culture, you can get a good idea of the traditions and customs that people still follow. Festivals, events, and attractions all have something to do with Thane's culture. In the last ten years, tourism has grown, and most people in the area are friendly to tourists. Come to Thane and get lost in its fascinating culture.
How to Reach Tungareshwar Shiva Temple
By Air: The closest airport to Tungareshwar Shiva Temple is Chhatrapati Shivaji International Airport (CSIA) in Mumbai. From here, travellers can take a taxi or ride-sharing service to reach Vasai Road, where the temple is located. The journey should take approximately one hour, depending on traffic conditions. Another option is to fly into Nashik Airport and then take a taxi or bus for the two-hour drive to Vasai Road station.
By Road: The best way to reach Tungareshwar Shiva Temple is via the Western Express Highway (WEH). The route from Mumbai takes approximately two hours if you take the NH 8 highway that connects WEH with Vasai East (via Dahisar). You can also take the National Highway 48 (NH 48) from Mumbai and drive through Virar, which will take around 2 and a half hours, depending on traffic conditions.
By Train: The Tungareshwar Shiva Temple is easily accessible via local trains going towards Virar on the Western Railway line. Travellers must take a train bound for Virar and get off at Vasai Station. From there, it's an easy 16 km ride to the temple in auto rickshaws or taxis.
Temple Location Map
Quick FAQ – Tungareshwar Temple
What is the meaning of Tungareshwar Shiva Temple?
The five mountains that makeup Tungareshwar are home to some holy temples, such as those of Shiva, Kal Bhairav (Shiva's avatar), the Jagmata Temple (Parvati, Lord Shiva's wife, in her avatar), and the Balyogi Sadanandh Maharaj Matth. The legends say Lord Parashurama killed a demon named "Tunga" here.
What is the history of Tungareshwar Shiva Temple?
The legends say Lord Parashurama killed a demon named "Tunga" here. In honour of Lord Parashurama, the temple was built. Here is where Lord Parashurama sat and thought. People think that Adi Shankaracharya meditated at what is now called Sopara or Nalasopara, which is near Shuparak.
What are the main attractions of Tungareshwar Shiva Temple?
On rainy days, the two main things to do in Tungareshwar are the. There are waterfalls and a Lord Shiva temple deep in a hilly trek.