Sri Karmanghat Hanuman Temple, located in the heart of Hyderabad, is one of the most renowned temples in India. This ancient temple has a rich history and was built during the rule of the Kakatiya dynasty over 800 years ago. It is said to be one of the oldest temples in South India and is considered to be sacred by many pilgrims who come from all across the country to seek blessings from Lord Hanuman.
| | |
| --- | --- |
| Temple Name | Sri Karmanghat Hanuman Temple |
| Temple is also known as | Sri Karmanghat Anjaneya Temple |
| Temple Dedicated to | Lord Hanuman |
| Temple Timing | 6:00 AM to 12:00 PM & 4:00 PM to 8:00 PM |
| Aarti | Shri Hanuman Chalisa |
| Darshan Fee | Free Entry |
| VIP Entry | Not available |
| Live Darshan | Not available |
| Important Festivals | Hanuman Jayanthi, Krishna Janmashtami, Dasara, Deepawali, Karthik Poornima, and Shivratri |
| Address | 8-2-61, Inner Ring Rd, Padma Nagar Colony, Champapet, Telangana 500079 |
| Official Website | karmanghattemple.telangana.gov.in |
| Contact Number | +91-97041 75441 |
| Official Email ID | Not available |
About Hyderabad Karmanghat Hanuman Temple
Karmanghat Hanuman Temple is located in Karmanghat, close to Santoshnagar, in Hyderabad, Telangana, India. It is dedicated to Lord Hanuman. It is among the oldest and most well-known Hindu temples in Hyderabad. Lord Anjaneya is the principal deity of the temple. The temple also contains temples for other Hindu gods and goddesses, including Lord Rama, Lord Shiva, Goddess Durga, Goddess Santoshimata, Goddess Saraswati, Lord Venugopala Swamy, Lord Jagannath, Lord Ganesha, and a great number of others. Here, Lord Anjaneya Swamy, also known as Dhyana Anjaneya Swamy, sits quietly, meditating and bestowing blessings upon followers.
Temple History & Legend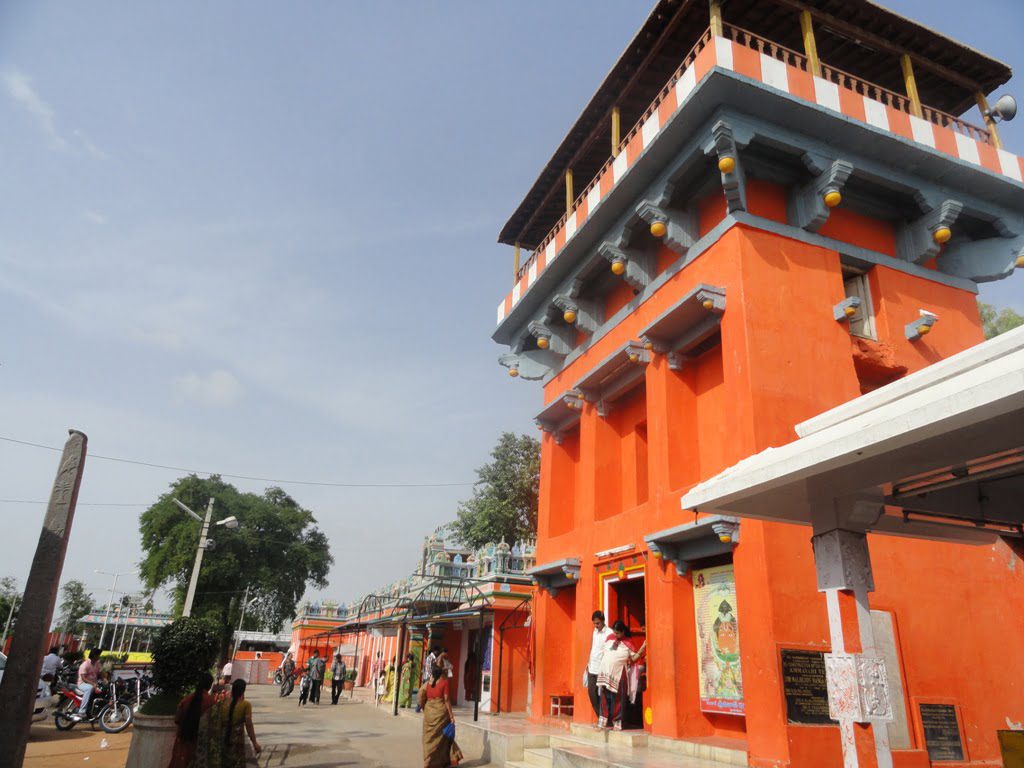 The temple's history goes back to the 12th century A.D. According to folklore, a Kakatiya monarch hunted in the forest. After some hours, exhausted, he dropped down to rest beside a tree. During that time, he heard someone shouting Lord Rama's name. To satisfy his curiosity, he proceeded farther into the dense forest. He noticed a stone statue of Hanuman in a seated position, with a voice emanating from the vigraha. He showed reverence for the idol. After returning to his capital, Lord Hanuman appeared to him in a dream and requested that he build a temple.
The temple was built without delay, and successive monarchs of the Kakatiya dynasty administered it effectively. Approximately 400 years later, Aurangzeb ordered his forces to burn every Hindu temple in the nation. When his forces arrived at this temple, they could not even approach the compound wall. After this, Aurangzeb travelled there with a crowbar to destroy the temple. Once he reached the location of the temple, he heard a terrifying roar and dropped the crowbar out of panic. Then he heard a divine voice from heaven proclaim, "Mandir todna hai Rajan, to kar man ghat," which translates to "If you wish to destroy the temple, O King, harden your heart." The name kar-man-ghat was derived from the words.
Significance of Temple
It is the oldest temple in the city and maybe the only shrine covering such a vast area. The temple, situated on 3 acres of ground, is lovely and tranquil. There is a pond where worshippers can bathe in the holy water on the grounds. In addition to Lord Hanuman, the primary deity, the complex contains numerous other temples. There are temples dedicated to Lord Ganesha, Lord Venugopala, and numerous more deities. The celestial blessings of Lord Rama, Devi Durga, Devi Saraswati, Lord Siva, Lord Jagannatha, and the Navgrahas are showered upon the worshippers.
Important Festival
It is one of Hyderabad's most crowded temples. According to Hindu folklore, Lord Hanumana is Chiranjeevi (immortal). Therefore, he can bless believers in the Kaliyuga by revealing himself to them. There, numerous individuals have sensed the divine presence of Lord Hanumana. Sri Ramnavami and Sri Hanuman Jayanthi are two of the most important celebrations. There is great pomp and magnificence among those who come to the temple to participate in the celebrations. Other holidays include Krishna Janmashtami, Dasara, Deepawali, Karthik Poornima, and Shivratri.
Temple Timing
| | | |
| --- | --- | --- |
| Day | Morning Time | Evening Temple |
| Mon, Wed, Thu, Fri | 6:00 AM to 12:00 PM | 4:00 PM to 8:00 PM |
| Tue and Sat | 5:30 AM to 1:00 PM | 4:00 PM to 9:00 PM |
Darshan Dresscode
Don't wear clothes with too much bling.
How to Reach
By Air, The temple is about 20 kilometres from Hyderabad Airport, the closest airport. You can take a taxi or bus to get to the temple.
You can get to Yakutpura Railway Station by train, which is about 4 K.M. away. You can take a taxi or bus to get to the temple.
If you want to take a bus, Manda Mallamma Gardens is the closest bus stop. On this route, there are buses all the time.
Temple Location Map