The Sanwariya Seth Temple is a well-known temple in the Indian state of Rajasthan. It is in the district of Chittorgarh. A temple is a place of worship for Lord Krishna. It is known for its beautiful design and religious meaning.
Shree Sanwariya Seth Dham is a large temple in Rajasthan. It is in the village of Mandafia, about 40 km from the district headquarters of Chittorgarh. This temple is on the road between Chittorgarh and Udaipur. People from all over the country keep coming to the temple of Sanwaria Seth.
People think this temple is more important for businesspeople, and they come to the temple to make Lord Sanwaliya Seth a partner in their business and pray to God for business success.
History of Shri Sawariya Seth Temple, Rajasthan
The Sanwariya Seth Dham has existed since the year 1840 when Gaharwar Jat found Lord Krishna's statue while ploughing his fields. The figure was found near a neem tree, which was thought to be about 5000 years old.
Gaharwar Jat chose to build a temple at the place where the treasure was found, so he started collecting money for the temple. But it was hard for him to get the money he needed, and it took him many years of hard work before he could start building the temple.
The temple was finished being built in 1939, and its name was changed to the Sanwariya Seth Dham. The temple was made in the style of Rajasthan, and it had beautiful paintings and designed all over it.
Soon, the Sanwariya Seth Dham became a travel place, and thousands of people from all over the country came to pray to Lord Krishna. Today, the temple is one of the most popular places of worship in Rajasthan, and it still gets a lot of visitors every year.
The Temple is a place of prayer and a sign of Rajasthan's rich cultural history. Its beautiful architecture and religious importance make it a must-see for anyone who wants to learn more about India's cultural and religious past.
History of Lord Krishna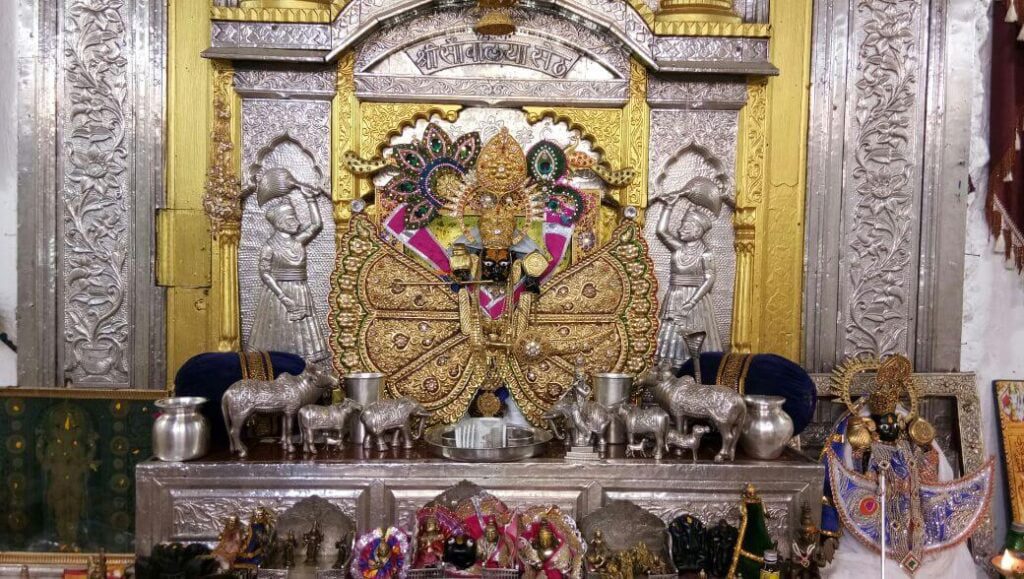 Shri Krishna is an incarnation of Lord Vishnu, and the Sanwaliya ji Temple is dedicated to him. The temple has an interesting story from about 200 years ago that followers are excited to learn about. People say that in 1840, a milkman named Bholaram Gurjar dreamed that three gods were hidden underground in the Chapar village of Bhadsoda-Bagund.
Then, with the help of local people, those places were dug up, and the gods were taken away. One of these gods was taken to Mandapiya, and another to Bhadsoda. The third idol was put in the same place where the other two were taken.
The architecture of Sanwariya Seth Temple
One of India's big temples is the temple of Sanwaliya Ji. Pink sandstone was used to build the grand and beautiful Sawariyaji temple building. In the holiest part of the temple, there is a Seth Sawaliya Ji statue of black stone dedicated to Lord Krishna.
The Mandir was built in the style of old Hindu buildings. The temple's walls and pillars are beautifully carved, and the floor has perfect pink, white, and yellow tiles.
When the Sanwaliya Seth Mandir is open?
The Seth Sawaliya Ji is open daily from 5:00 am to 12:00 pm and from 2:30 pm to 11:00 pm. During this time, you can visit the mandir anytime.
Shri Sanwaliya Ji Temple Aarti Timeing
| | |
| --- | --- |
| Aarti | Time |
| Morning Mangala Aarti | 5.30 AM |
| Rajbhog Aarti | 10.00 AM |
| Shringar Aarti | 7.00 PM |
| Evening Aarti | 7.15 PM |
| Night Shayan Aarti | 10.00 PM |
When to go to Sanwaliya Seth Temple at its best
Sanwalia Seth temple can be seen anytime, but people should go between October and March.
How to Get to the Sanwariya Sath Temple
Google Location Map
By Air
The nearest airport to the temple is Maharana Pratap Airport in Udaipur, about 90 km from Chittorgarh, is the closest airport. You can take a cab or a bus from the airport to easily reach the temple.
By train
The railway station to Sanwariya Seth is Chittorgarh, which is easy to get to from India's biggest towns. You can take a cab, an auto-rickshaw, or a bus to get to the temple from the train station.
By road
Chittorgarh is well-connected to important cities in Rajasthan and other parts of India. You can take a bus or call a taxi from any close city to reach the temple.
Once you get to Chittorgarh, you can easily get to the Temple by auto-rickshaws or cabs. The temple is on the road between Chittorgarh and Udaipur and is easy to get to.
Nearest Hotel, Restaurant, Medical Store, ATM
| | | | |
| --- | --- | --- | --- |
| Nearest Restaurant | Nearest Hotel | Nearest Medical Store | Nearest ATM |
| Mamta fast food (450 m) | Shri Sanwaliya Dham AC Guest House (140 m) | Gaurav Medical Store (550 m) | Bank of Baroda ATM (450 m) |
Address, Official Website, Contact Number, Email, Live Darshan
| | |
| --- | --- |
| Address | Village Mandafiya, Dist, Bhadsora, Rajasthan 312024 |
| Official Website | srisanwaliyaji.org |
| Live Darshan | Not available |
| Contact Number | +91-01470-245493 |
| Email Address | Not available |