India is a country with a lot of different cultures and customs, and Pradosh is a Hindu festival. Hindus think it is one of the most powerful fasts (vrat). On this day, they fast and enjoy this Vrat with a lot of energy and excitement. The Pradosh rite is a form of penance that aims to bring health, peace, and freedom (Moksha).
The word pradosh means the beginning of the night or about the evening. So, this vrat is done at twilight (Sandhyakaal) in the evening and is called Pradosh Vrat. According to the holy book Shiva Purana, Lord Shiva and his wife, Parvati, grant the wishes of their followers during this holiday. The vrat is usually done on the 13th day of the lunar month, called Trayodashi Tithi of Shukla Paksha and Krishna Paksha.
Shani Pradosh (when a Pradosh happens on a Saturday) and Soma Pradosh (when a Pradosh happens on a Monday) is considered the most important of the seven Pradosh.
Story of Lord Shiva
The famous story of Lord Shiva is told in Skanda Purana, the biggest of all the Puranas, how He saved the world by drinking poison from the ocean. This is what Pradosh vrat is all about.
According to a story in the Skanda Purana, the Samudra Manthan was done by the demigods (who represent gods) and the Asuras (who represent demons) together, under the direction of Lord Vishnu, before Satya Yuga. They used the biggest snake, Vasuki, as a rope to stir up the cosmic ocean so they could get the ambrosia and eat it to become ageless. And the Halahala (poison) was the first thing that came from the ocean being stirred up.
When poison came up from the sea floor, it was so poisonous that it could have destroyed everything in the universe. So, neither the good nor bad minds stepped up to claim it. Then, Lord Shiva drank the Halahala to save the world and everyone living there. The day Lord Shiva chose to drink the last drop of this poison was Pradosh.
Significance of Pradosh Vrat Katha & Puja
Pradosh is an auspicious day because it is thought that if a person fasts and worships Lord Shiva on this day, they can get rid of all their sins and get Moksha (freedom) after death.
The Skanda Purana gives a beautiful explanation of what pradosh fasting means:
To please Mahadev, the most important god, you only need to go to a Shiva temple and light one lamp during the Pradosh Kaal.
Those who fast on this happy day with dedication and faith will be healthy and wealthy.
Chanting the Maha Mrityunjaya chant 108 times in a shrine to Lord Shiva, Parvati and Nandi calms the mind and helps with spiritual growth and making one's wishes come true.
The Shiva Chalisa talks about the meaning and benefits of fasting on pradosh vrat when pradosh fall every month (List of Pradosh Vrat):
Som Pradosh vrat happens on a Monday, it gives the devotee good health and helps them get what they want.
Bhaum Pradosh, which happens on a Tuesday, helps people get better from many illnesses and gives them a long life.
If someone keeps a Pradosh vrat on Wednesday, their dreams will come true.
Guru Pradosh vrat happens on a Thursday, it helps the follower get rid of his enemies and live in peace.
Bhrigu Vaara Pradosh, which happens every Friday, Keeping vrat on this day helps to eliminate the bad forces around a person.
Shani Pradosh vrat, which happens on a Saturday, is thought to be the luckiest day. Keeping a fast on this day of pradosh is thought to bring good luck, such as a happy and lovely married life and a child, to parents who have never had one, thanks to Shiva and Parvati.
Bhanu Vaara Pradosha falls on a Sunday, you will progress much.
How to keep the Pradosh Vrat – Puja Vidhi
This happy day brings happiness, health, and prosperity. Going to Lord Shiva's temple and seeing Goddess Parvati is the most important day. At the beginning of the puja, prayers and chants are said to please Lord Shiva and Parvati. Then, other deities are honoured. A devotee worships the Shivalinga by repeating the Maha Mrityunjaya mantra 108 times and meditatively lighting a lamp with clarified butter.
Based on the Hindu calendar and beliefs, there are two ways to fast on this special day. Since this holiday begins when the sun rises, devotees bathe and don't sleep for 24 hours. They don't eat or drink anything from sunrise to sunrise. Then, they can only break the fast by bathing and eating fresh food the next morning.
Another part of the clan fasts from morning to sunset since the word pradosh means evening or around sunset. The pradosh time usually starts 90 minutes before sunset and ends 60 minutes after sunset. On this happy day, followers fast from early morning until puja and aarti are done in the evening. They bathe before sunset and then go to a Lord Shiva temple in the evening. After the temple's traditions are over, these people go to bed and eat a very limited, light meal.
Foods to eat on auspicious Pradosh Vrats (Pradosham)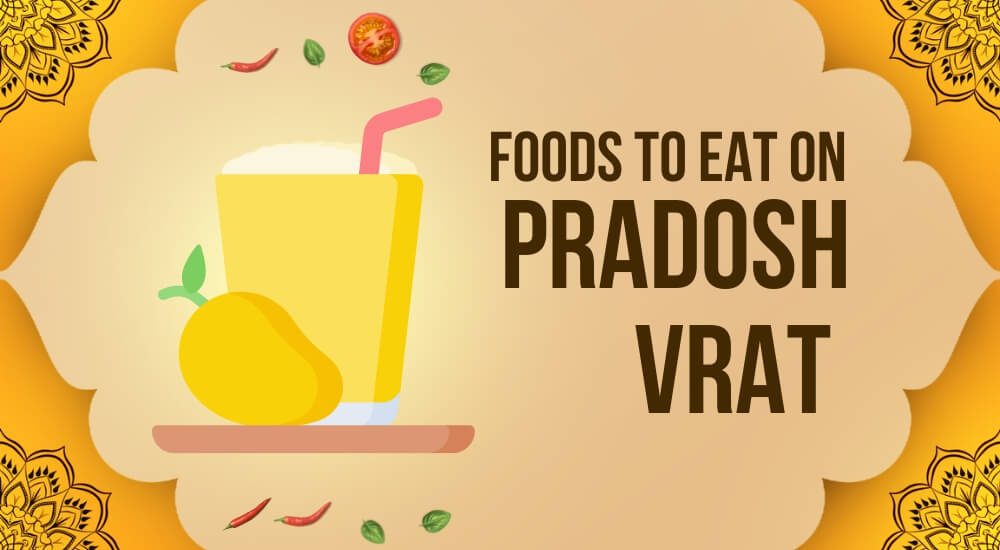 Most Hindu followers don't eat during the Pradosh vrat, but those who can't go without food for 24 hours can eat a light, limited diet after the evening puja. Here are a few good ideas for sattvic foods:
Fruit Salad: Fruit salads are great for fasting days. It fills you up and gives you all the nutrients you need.
Aloo Raita: It is made with curd, potatoes, salt, and ghee, making the person on a fast feel fresh and strong.
Kuttu Puri: it is a popular and delicious food during a vrat.
Sweet potato: The best snack this day is pieces of boiled sweet potato.
Mango Lassi: It is the perfect drink because it fills you up and keeps you from dehydrating.
People who follow the Hindu religion and worship of Lord Shiva, and Goddess Parvati enjoy Pradosh with joy and devotion. In addition to fasting, praying and chanting mantras during the evening hour (sandhyakaal) are important as part of Pradosh Vrat. Because they are in a good mood on this day, Lord Shiva and His wife will grant a devotee's wishes.
Hindu Scriptures and Puranas give this day a lot of importance. They say that if a follower fasts on this day, they will have good luck and be able to reach Moksha.